How to adjust the steering behavior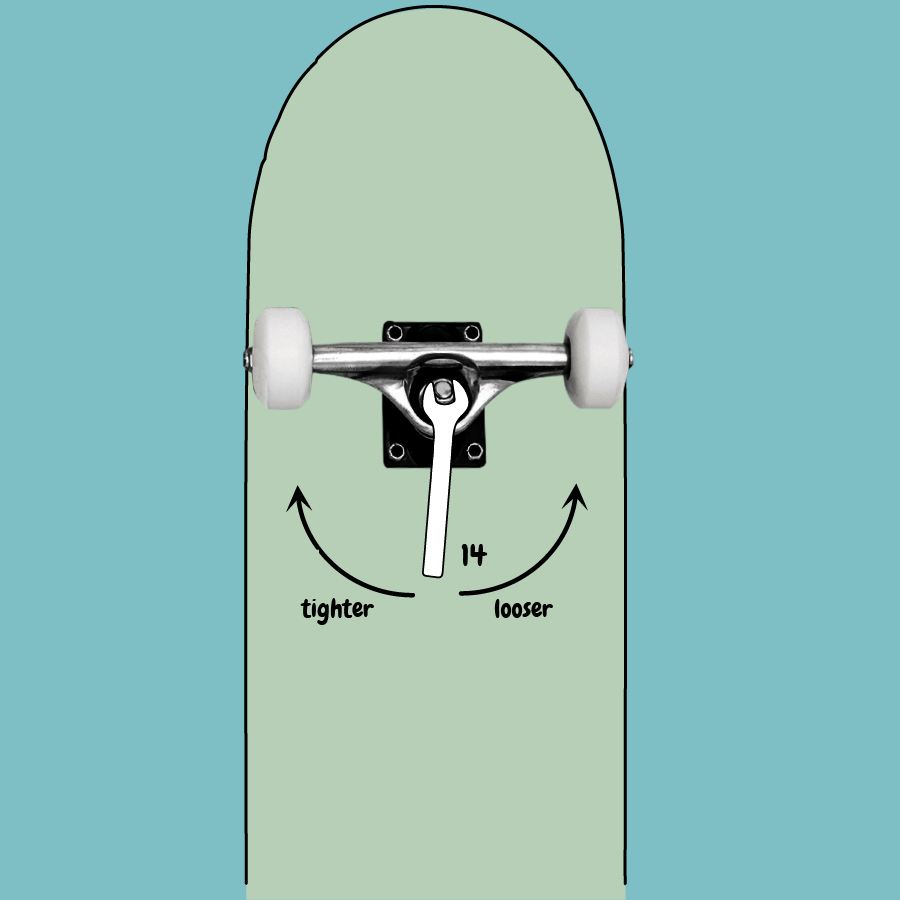 Every Skip skateboard is checked that the bearings and trucks are coordinated correctly before shipping.
Because every Skater is different with different preferences, the steering behavior may have to be readjusted.
You do this by tightening or loosening the axle nut.
How to find the right deck size
When you talk about the "size" of a skateboard, you are refering to the width of the deck. Decks are measured in inches. 
Like many things in skateboarding, it is a matter of preference which deck size you favorize. 
| Shoe size US | Shoe size UK | Shoe size EU | Recommended deck width |
| --- | --- | --- | --- |
| 1.5 | 1 | 32 | 7.0" - 7.375" |
| 2 | 1.5 | 32.5 | 7.25" - 7.5" |
| 3 | 2.5 | 34 | 7.375" - 7.625" |
| 3.5 | 3 | 35 | 7.375" - 7.75" |
| 4 | 3.5 | 36 | 7.5" - 7.875" |
| 4.5 | 4 | 36.5 | 7.5" - 7.875" |
| 5 | 4.5 | 37.5 | 7.635" -8.0" |
| 5.5 | 5 | 38 | 7.635" -8.0" |
| 6 | 5.5 | 38.5 | 7.75" - 8.0" |
| 6.5 | 6 | 39 | 7.75" - 8.125" |
| 7 | 6 | 40 | 7.875" - 8.125" |
| 7.5 | 6.5 | 40.5 | 7.875" - 8.25" |
| 8 | 7 | 41 | 8.0" - 8.25" |
| 8.5 | 7.5 | 42 | 8.0" - 8.25" |
| 9 | 8 | 42.5 | 8.0" - 8.375" |
| 9.5 | 8.5 | 43 | 8.0" - 8.375" |
| 10 | 9 | 44 | 8.125" - 8.5" |
| 10.5 | 9.5 | 44.5 | 8.125" - 8.5" |
| 11 | 10 | 45 | 8.25" - 8.625" |